Pamira Care and Love to All Babies, Pamira Contributes to Their Healthy Growth
From baby milk powder that contributes to the development of babies' brains, healthy fruit puree with rich taste, to teething biscuits that promotes the growth of babies' teeth and bones, baby food needs not only to walk on the course of "nutrition and health", but also meet the needs of delicate feeding, such as taste, nature, nutrition and health.
In order to meet the diverse feeding needs of parents born in the 1980s and 1990s, the Thai brand Pamira came into being. Pamira will bring international and high quality one-stop feeding solutions to Chinese mothers.
Originated from Thailand
Pamira is originated in Thailand. It develops quickly in the sunny country where everything grows. From baby food supplements to baby snacks, Pamira has a rich product line which includes baby rice cereal, melts, seaweed, puffs, biscuits and so on.
Pamira has always been adhering to the concept of "Country of Origin and Always Fresh". Pamira has always been committed to the quality of raw materials. Every product of Pamira follows the laws of natural growth. Pamira maintains strict standards from its source and believes that it takes 10,000 times more care for baby food.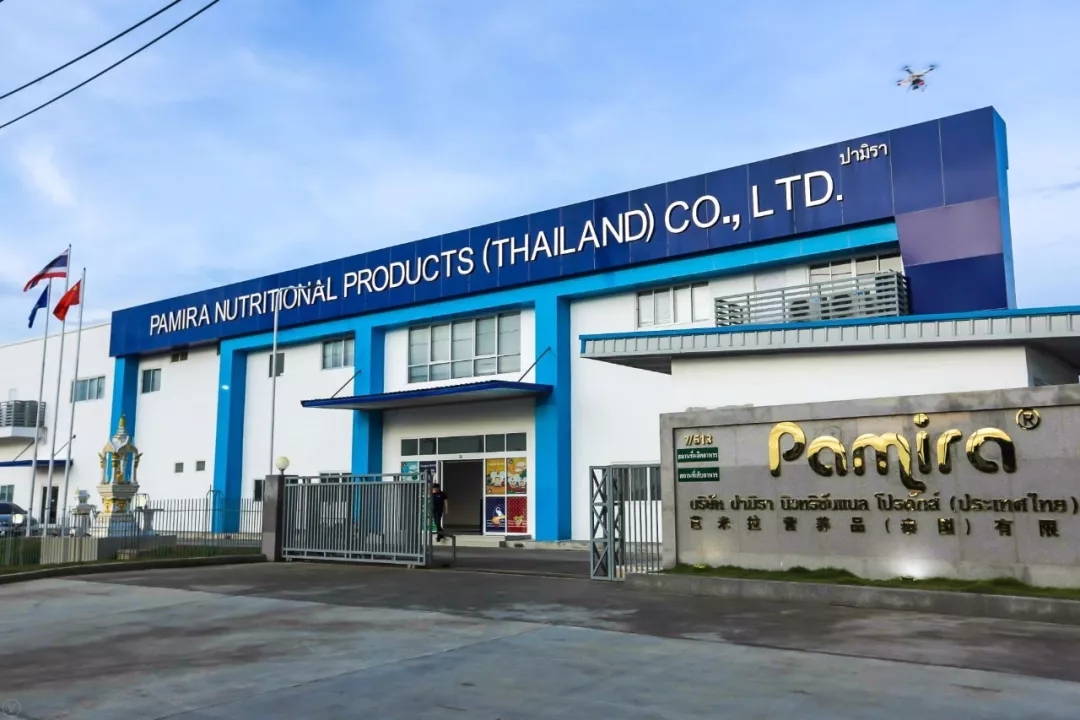 Pamira Own factory
Country of Origin

Li Fei, the founder of Pamira, heard of Thai hom mali rice when he was travelling in Thailand. Rich in nutrition and easy to digest and absorb, this kind of rice causes little burden on babies' intestines. After six months' repeated experiments, as well as experts' rigorous research, it is found that hom mali rice is especially suitable for making baby food. Therefore, Mr. Li decided to build a factory in Thailand, bearing the concept "Country of Origin, Always Fresh" in mind.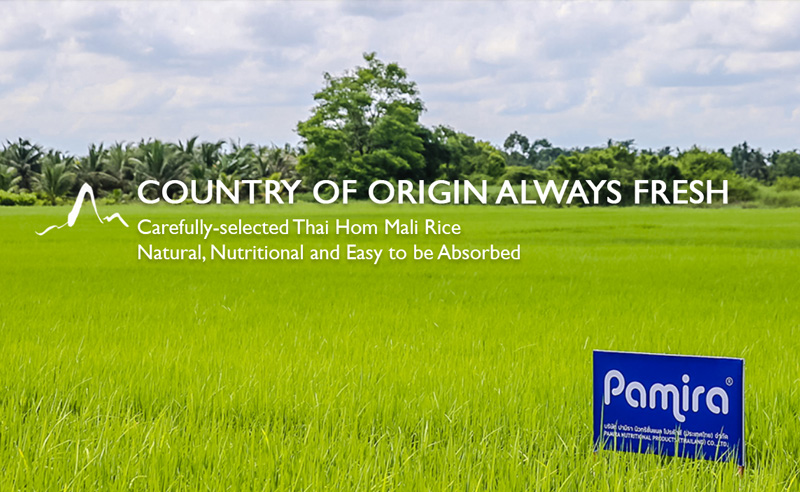 Pamira Own planting base

Selected quality raw materials
Natural high-quality raw materials, is the first step in the production of high-quality supplementary snacks! All raw materials for Pamira's products are from Thailand, a country abound in gifts of nature. Pamira firmly believes that raw material plantations without contamination is the guarantee of safety and purity.
(一)Natural farm season fruit
Pamira's exclusive plantation kills pests in ancient, chemically-free ways to avoid pesticide residues in fruits and vegetables. When the fruit is ripe, they are screened several times, choosing only the best quality fruit as a substitute for the Pamira and snacks. Banana, thin skin, thick flesh, helps to replenish the stomach and promote body fluids; pineapple, sweet and juicy, rich in vitamins; thick mango, delicious meat, sweet; coconut, mild, rich in micronutrients. All of these fruits are good ingredients for baby food.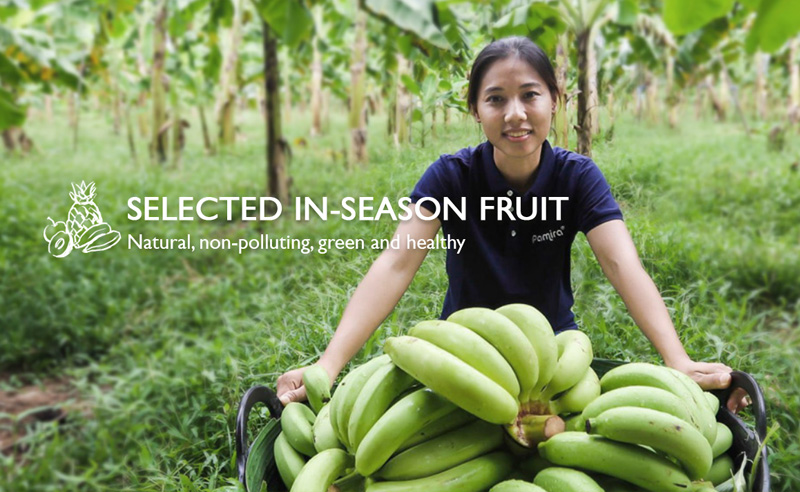 Selected natural farm season fruits
(二)Pure nutritious jasmine rice
In the selection of rice, Pamira has carefully selected Thai hom mali rice which is known as "the best rice" from the world's best production area, as raw material.
(1)Original ecology
Northeast of Thailand is located in the highlands, far from the industrial zone, the unique weak alkali sand, so that the taste of rice better mellow, the entire planting cycle, do not use fertilizer pesticides, natural rain irrigation, to ensure that jasmine rice fresh and pure. Planting area throughout the year more than 1800 hours of sunshine, which means that each grain of rice every day to enjoy more than 5 hours of sunbathing, fully absorb the essence of the sun, conducive to the growth of rice, green ecological planting environment, away from pollution, healthier and purer.

Selected Thai hom mali Rice
(2)Harvested Once in A Year Fewer But Better
Common rice varieties which are normally planted for two and a half seasons a year, while om mali rice is planted for only one season a year, that is, hom mali rice seedlings are planted in June and they are harvested in November. Local farmers have little field management during the rice growing process. They follow natural laws and, in most cases, harvest the rice in traditional manual ways.
More Nutritious Than Common Rice Varieties
Thai jasmine rice special geographical environment and other factors determine its water content of no more than 14%, straight chain starch content between 12% to 19%, its nutritional value is higher than the general rice, containing high fiber, vitamins and protein, rich in minerals and iron, calcium, phosphorus can fully meet the daily needs of the human body nutrition.

Selected Thai hom mali Rice
For the nutrition and health of babies is Pamira's original intention. Pamira shall never change its intention and will always ensure the source of its raw materials.
Innovative Production Technology
Pamira combines hom mali rice with the production technologies of modern rice flour and achieves "non-contact production mode" through international first-class production line. The production process is fully monitored by video, foaming and grinding powder under strict sterile environment. With new intelligent equipment packaging and quality inspecting, Pamira ensures the quality of all its products. In addition, each product has gone through two strict quality checks, the quality check of Thailand and that of China, and fully meets the food safety standards of these two countries.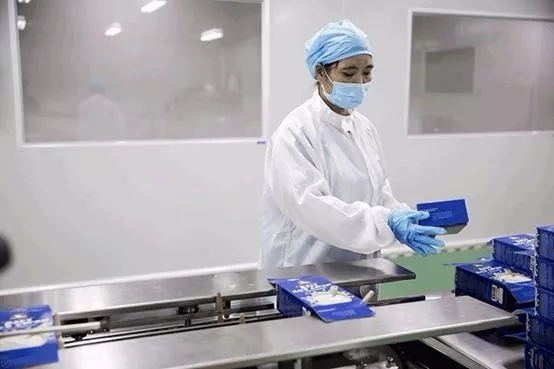 New Intelligent Equipment for Packaging and Quality Inspecting
Clean Room & Strict Quality Control
In order to be pure and of high quality, all those entering the production floor must be thoroughly and strictly disinfected. In addition, experts will be each batch of raw materials semi-finished products and finished products for up to 86 tests, and there is a sample re-testing plan, regular lying on the shelf life of the product, tracking product quality safety.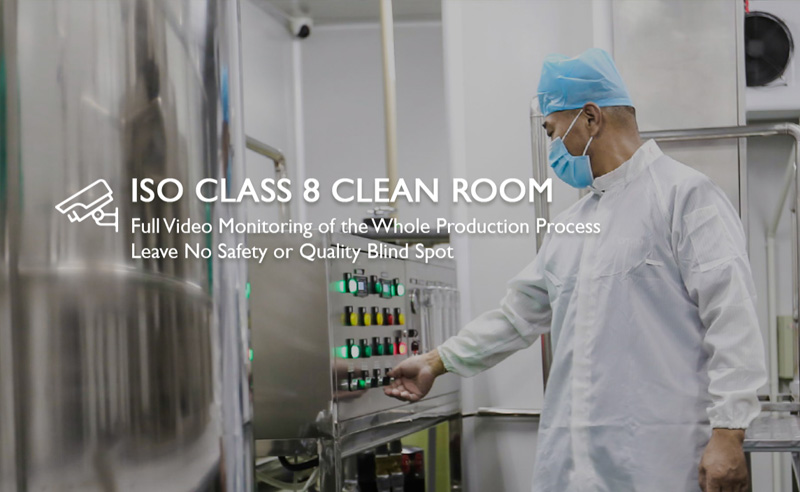 ISO Class 8 clean room

Formula Co-studied by Pamira and Rajamangala University of Technology Krungthep (RMUTK)
Pamira also attaches great importance to the research of science and technology. It has established long-term strategic cooperative relations with the institute of food research and other institutions of Rajamangala University of Technology Krungthep (RMUTK), jointly developing baby formulas, and this has been widely concerned by the industry at home and abroad.
In addition, Pamira also has a professional research and development team composed of senior researchers and professors, conducting scientific research and putting forward balanced formulas with the characteristics of baby's growth and development in mind.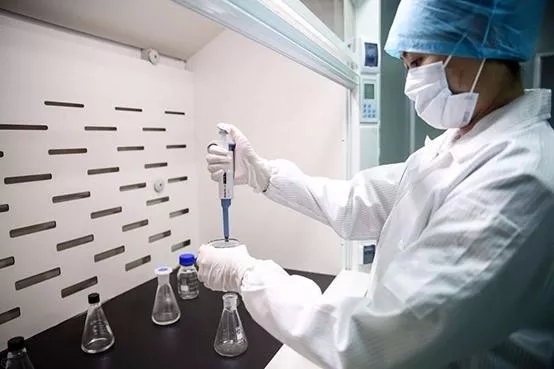 Professional R&D Team
It is not only a career, but also a responsibility to raise the quality of baby food and snacks to a new height by using natural food materials, to care for the nutrition and health of babies, and to guard the growth of babies. With such a professional and rigorous attitude, it is convinced that the products of Pamira would be very desirable.